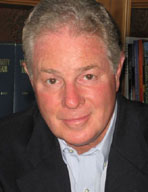 DOUG JOHNSTON, Publisher - Doug Johnston brings 30 years of experience leading start-up publications to his most recent venture, The Justice Journal.

Johnston was one of the original members of the team that launched Vanity Fair magazine for Conde Nast Publications in 1981. Though one of the most visible and controversial launches of its time, Vanity Fair became one of the greatest success stories in the publishing industry. He served as publisher there for six years and was subsequently named senior vice president of Conde Nast, responsible for managing new magazine start-ups.

In 1991, Johnston formed Midway Communications to provide management consultation for communications and media firms. He has provided consulting services for a wide range of businesses including Conde Nast and Hachette Publications. He has also served on the executive teams of a number of clients including Rx Remedy, and CommerceInc, an internet business-to-business information company.

Johnston took on the role of general manager for another client, Cottages & Gardens Publications, Inc. where he facilitated the 2004 launch of Connecticut Cottages & Gardens magazine.

Johnston specializes in ventures which go against conventional thinking and compete on new frontiers. He excels at team building and the development of deliberate processes for establishing and maintaining momentum --- the greatest challenge facing any new venture in the communications industry.